Features
Jump to features by category:
Core Features
Account Management
Record transactions to track the value of cash on hand, bank and credit card accounts, investments in your portfolio, and other types of assets and liabilities.
Income and Expense Tracking
Categorize transactions by entering the name of an income or expense category in the Transfer/Track column, such as "Salary and Wages" or "Medical Expenses," then generate reports to see where your money comes from and where it goes.
Split Transactions
When a transaction's amount covers more than one expense, click the icon in the Transfer/Track column to display the Split Transaction pop-up window. Assign part of a transaction's amount to the expense in one row and a new row is automatically created for the remaining amount.
Password Protection
Protect your financial data from prying eyes by requiring a password to open documents. Passwords can be saved in the Mac OS X Keychain for convenient and automatic access when you are logged in to your Mac.
Transaction Highlighting
Choose "Show Colors" from the Edit menu to highlight a transaction, which can help remind you when you need to follow-up on a disputed credit card purchase or anything else that requires your attention.
Scheduled Transactions
Simplify repetitive data entry by scheduling frequently recurring transactions for automated entry.
Transaction Groups
Use the Group command in the Selection menu to organize transactions into groups — a great way to reduce clutter in accounts that have a lot of transaction history.
Account Reconciliation
Mark transactions as cleared by selecting the checkbox in the Cleared column, then compare the Cleared Balance total in Liquid Ledger against the balance on your monthly statement.
Dynamic Transaction Sorting
Click on any column to sort transactions in ascending or descending order, making it easy to find all transactions with the same name, date, memo, or any other attribute.
Interactive Transaction Search
Enter a search term in the Search field of the window's toolbar to immediately find matching transactions.
Convenient Date Range Filters
Use the "Focus on Date Range" command in the Account menu to quickly focus on transactions for the current month or year.
Detailed Transaction Info
Click the Inspector button in the window's toolbar to reveal additional information about selected transactions, such as check numbers, reference numbers, a memo field, and more. Select several transactions and use the Inspector to update multiple transactions at once.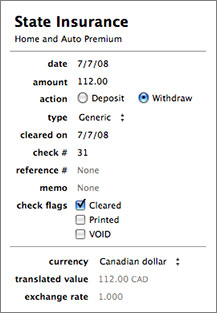 Reports and Graphs
The Reports Library
Click on the disclosure triangle next to Reports & Graphs in the window's sidebar and select from a variety of ways to summarize your financial data.
Print to PDF
Select the "Save as PDF" option from the Print dialog to save reports as PDF files that you can easily share with your bank manager or accountant.
Paginated Reports for Easy Printing
Reports are automatically formatted with page numbers, headers and footers for a professional look when printing reports that span multiple pages.
Budgeting
Budget Goals
Specify how much income you receive and how much you spend each month, then select a date range from the "Show Transactions" pop-up menu to compare your actual income and spending against your budget. The "Available" column gives you immediate feedback on how much you can still spend without breaking your budget.

Check Printing
Graphical Check Template Editor
Open the Check Template Editor by choosing the "Edit Check Template" command in the Account menu. The Editor makes it easy to position and resize check fields such as payee, amount, and date using the arrow keys or drag and drop. The Action menu at the bottom of the window offers a variety of options, such as the ability to align elements to a grid, to set a background image of your blank check stock for perfect alignment, and to specify from one to four checks on the printed page.
Note: printing checks requires purchasing check stock that has been pre-encoded with your account information.
Easy Alignment of Form Fields
Scan a page of your blank check stock and use the scanned image as a background, so you can easily move and resize form fields for easy alignment.
CPA Standard 006 Date Format
Customize the format of dates, including a YMD option that conforms to the new Canadian CPA Standard 006 requirements. Click on a field's pop-up menu control and select the "Date&hellip" menu item to bring up a list of formatting options.
Importing and Exporting
Migrate from Quicken or MS Money
The New Document Setup Assistant gives you the option to import data from a Quicken Interchange Format (QIF) file, so you can migrate in minutes from Quicken, Microsoft Money, or from any financial application that supports the QIF format.
Industry-Standard Formats
Choose the "Import" or "Export" commands in the File menu to import and export financial data in a variety of industry-standard formats. The Quicken Interchange Format (QIF) and Open Financial Exchange (OFX/QFX) options are ideal for importing account activity from financial institutions, and the Comma-Separated Values (CSV) format makes it easy to transfer data to or from a spreadsheet application.
Interactive Transaction Matching
The "Import New Transactions Only" option in the Import Assistant eliminates the time-consuming process of removing duplicate transactions by comparing incoming transactions against those you have already recorded.
Automatic Income and Expense Assignments
When importing transactions, income and expense assignments can be automatically filled in for you based on past activity. By comparing the payee names of incoming transactions against those of previous transactions, the Import Assistant can automatically assign incoming transactions to the same income or expenses, saving you time and effort.
Flexible Export Options
The "Export" command in the File menu gives you a variety of options for extracting your financial data from Liquid Ledger. Whether you want to crunch some numbers using a spreadsheet application or you wish to share your financial data with your accountant, the Export Assistant makes it easy to export your data to industry-standard formats such as comma-separated values (CSV) and Quicken Interchange Format (QIF) files.
Multiple Currencies
Record Transactions in Any Currency
You don't need to learn anything new to record foreign currency transactions in Liquid Ledger. Simply select a transaction and use the Inspector panel to translate a transaction's amount to another currency. You can translate amounts by entering an exchange rate if that information is readily available, or you can enter the amounts in each currency and have Liquid Ledger calculate the exchange rate for you.
Capital Gains and Losses
When you deposit funds at one exchange rate then withdraw funds at a different rate, the difference in value represents a foreign currency gain or loss. Liquid Ledger is the only accounting solution for the Mac that properly handles multiple currency accounting by accurately tracking the effects of foreign currency exchange rates on your accounts. Best of all, multiple currency support is automatic and transparent, so you don't have to know anything about foreign currency accounting to properly manage foreign currency scenarios.
Seamless Transfers Between Currencies
When you need to transfer funds between accounts that are denominated in different currencies, Liquid Ledger does all the work for you. Simply transfer funds as usual by entering the name of an account in the Transfer/Track column and Liquid Ledger will automatically translate the transaction's value to the desired currency.
Time-Saving Features
Date Shortcuts
Enter dates using a variety of convenient shortcuts, such as "15" to specify the 15th of the month, "jan 15" for January 15 of the current year, or even use natural language expressions like "last Friday."
Transaction AutoFill
When entering frequently recurring transactions, simply type the first couple of letters of a payee in the Name column and Liquid Ledger will automatically fill in the rest for you based on past activity.
Keyboard-Based Workflow
When it's time to update an account with new activity, press Command-K to create a new transaction and enter the transaction details directly in the main table. You never need to lift your fingers from the keyboard, so you can quickly record new activity without any interruptions to your workflow.
Transaction Math
Perform simple arithmetic when entering transaction amounts so you never have to pull out a calculator when recording a combined deposit of multiple paychecks into your checking account.

Batch Commands
Save time and effort with batch commands that let you make the same modification to several transactions at once. Simply select one or more transactions, then use either the Inspector or the commands in the Account menu to mark selected transactions as cleared, assign them to a given income or expense account, change their highlight color, and more.
Quick Navigation Among Accounts
The Next and Previous buttons in the toolbar enable you to quickly switch among the accounts you are working with, just like using the Next and Previous Page buttons in a Web browser.
Interactive Page Break Preview
Select "Page Break" mode from the View menu to see exactly where page breaks will occur when printing the current window. When previewing page breaks for transactions in an account, you can interactively resize columns to control where page breaks occur so printed data is meaningful and easy to read.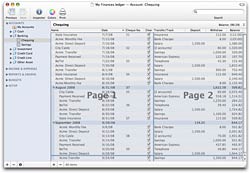 Made for Mac
Automatic Backup to .Mac
When saving your document, Liquid Ledger can automatically save a backup copy to your .Mac account, so you can easily recover your financial data if your computer is ever lost or damaged.
Clipboard and Drag and Drop Support
Enjoy the convenience of using the clipboard and drag and drop to move and copy transactions within Liquid Ledger, or copy and paste selected transactions into a spreadsheet program for further analysis.
International Date and Number Formatting
Whether you live in the U.S., Europe, Japan, or anywhere else in the world, Liquid Ledger respects the date and number formatting options you have set in Mac OS X System Preferences, so dates and numbers are formatted based on the region in which you live.
AppleScript Extensibility
Automate routine tasks and extend existing functionality by writing your own AppleScript or AppleScript Studio applications.